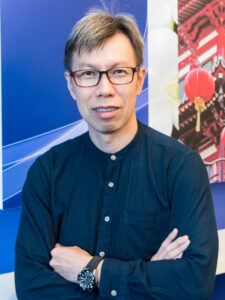 Gerald Boh (He/Him)
Co-Founder
Clinical Director
Principal Psychologist
"Problems are not the Problem; Coping is the Problem." — Virginia Satir
Gerald Boh is a Registered Psychologist and Approved Supervisor with the Singapore Register of Psychologists (Singapore Psychological Society).
He has extensive experience in private practice, healthcare, special needs and educational settings supporting young people, adults, couples and families on a wide range of psychosocial and special needs issues.
He specialises in adopting an experiential therapeutic approach in his therapeutic work with his clients, Gerald would utilize Walk & Talk Therapy and physical or experiential exercises which could strengthen their resilience to cope better and move ahead towards their goals in life.
In addition, he would employ Cognitive Behavioural Therapy, Reality Therapy, Acceptance & Commitment Therapy, Mindfulness and other experiential, strength-based approaches to help his clients cope better with the issues and circumstances.
Being a strong believer in a team-based approach, Gerald would work along with their stakeholders in order to support the clients in a more effective systemic manner.
In addition, over the numerous years of extensive clinical experiences in private practice, healthcare, special needs and educational settings, he is grateful of being able to receive the I-Care Award after receiving numerous nominations from the clients whom he always tried his best to support.
Gerald believes passionately in developing the next generation of mental health professionals so that more people could receive better mental health support. Thus he has been providing clinical supervision for mental health professionals to support them to provide quality psycho-social care for their clients and patients.
He has strong interests in education and frequently conduct numerous talks and workshops on a wide variety of mental wellness topics. Gerald also lectures and present in various educational institutions, conferences, and public forums. As the Principal Investigator with special interests in depression, anxiety and insomnia, his research study in these areas has won an award in Singapore Health & Biomedical Congress 2012.
Finally, Gerald enjoys an active lifestyle such as Tree Climbing and Round Island Cycling. He hopes to cycle around the world one day – Life is like cycling, to keep your balance you have to keep moving.
Educational qualifications / certifications:

Registered Psychologist; Approved Clinical Supervisor (SRP, SPS)
MA (Applied Psychology) Gold Medal (NIE/NTU)
MSc (Exercise & Sports) (NIE/NTU)
Post Graduate Diploma of Education (PE) (NIE/NTU)
BA Psychology (NUS)
Contact Us
Book an appointment below.
22 Sin Ming Lane
#06-76 Midview City
Singapore 573969