Counselling/ Experiential Psychotherapy
When we think of emotional healing, counselling (talk therapy) generally comes to mind but there is also experiential psychotherapy which could possibly help clients in a more empowering way.
Experiential psychotherapy allows clients to be bodily and sensorily engaged in the experiential activities. They can then work through their deep-seated unhelpful thoughts and release the underlying emotional distress that are associated with certain memories or situations they may be subconsciously or consciously blocking out or denying.
We use hands-on approaches with expressive tools and modalities, such as movement and rescripting, to help you explore difficult situations, process your emotions, see things from a different perspective in an experiential manner, and acquire healthy coping mechanisms to move ahead and create better experiences in life.
We also firmly believe in rendering therapeutic support by providing post-session check-ins via text between your counselling sessions to motivate and monitor your progress regularly. This will help you to stay focused on utilising the strategies to cope with the various challenges in life.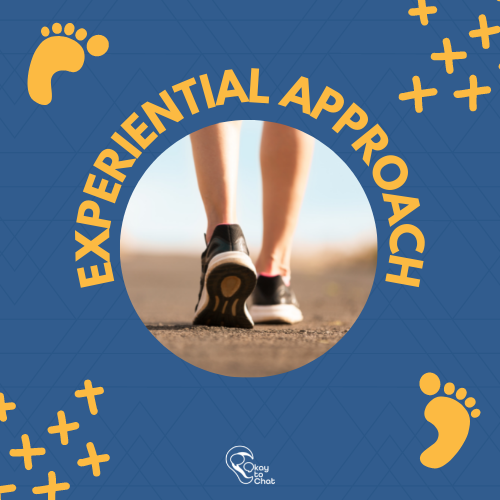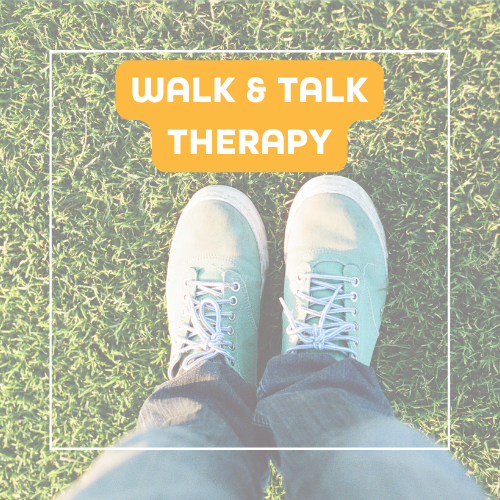 Walk & Talk Therapy
One of the experiential approaches which Okay To Chat uses.
Stressed? Overwhelmed? Depressed? Anxious? Pressed for Time?
Need to discuss about your concerns or some life coaching and also get exercise and fresh air at the same time? Try Walk & Talk Therapy.
Physical activities e.g. walking increases the release of endorphins and gets more oxygen to the brain, which could facilitate more creativity and better problem solving.
When we take a walk and talk about the challenges, you will enjoy the benefits of physical activity, fresh air and new insights or ideas to manage your concerns.
Numerous research studies have shown that regular walking can reduce stress, depression, anxiety, and increase self-esteem.
Our Co-Founder, Gerald Boh shared with local newspaper, Zaobao (联合早报) about its benefits.
We are a team of dynamic mental health professionals with extensive experience in providing lively and engaging training on a wide range of mental health topics.
Mental health is a crucial pillar in every workplace and organization. It is closely linked with productivity, morale and talent retention.  We strongly believe in tailoring our content and delivery to meet the unique needs of your organization or target group.
We take time to listen and understand the needs of your organization in crafting our offerings. From lunch talks, webinars, workshops to even gameshows, our bespoke suite of training is designed help your employees develop skills to cope with stress, work and personal life.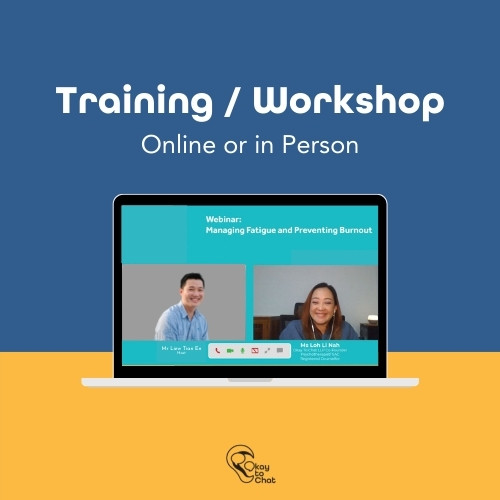 These are some of our popular workshops:
Paracounselling
Stress management & relaxation techniques
Mindfulness in workplace
Positive thinking
Build better relationships
Parenting skills
Conflict management
Crisis management
Resilience
Effective communication
Positive psychology
Weight management
Smoking cessation
Fatigue & burnout management
Best Study Smart Skills
We also offer customised Peer Support programmes to empower employees and managers to provide support for one another.
Connect with us today to find out how we can partner you in bringing mental wellness into your organization.
Disability & Inclusion Services
Individuals with disability have many strengths that can be harnessed. We focus on the ability rather than disability. They are an important group in society with huge potential.
We provided personalised support to training to equip the individuals with special needs with handy life, social, work skills so that they can work towards being independent and contribute to the society.
Types of services:
Personalized coaching (off site coaching)
Home visits (create personalised plan for individual with special needs)
Employability training (Preparing individuals with special needs for the workforce)
Executive Function skills training
Social skills training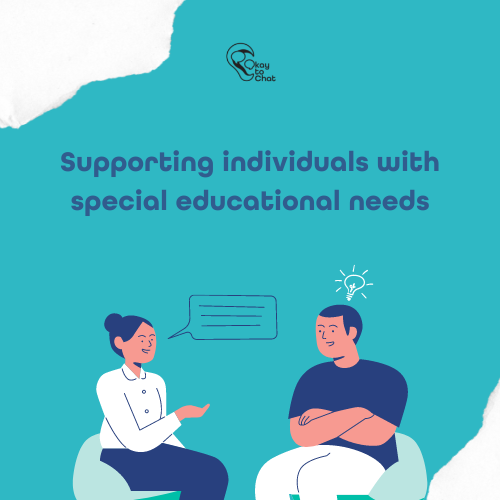 Contact Us
Book an appointment below.
22 Sin Ming Lane
#06-76 Midview City
Singapore 573969